Year 3 Mrs Shaul & Mrs Dunford 2022 - 2023
Mrs Shaul
Spring Term 2022-23
Welcome to Year 3
We hope that you have had a lovely Christmas break and you feel well rested ready for you new start in Year 3 with both Mrs Shaul and Mrs Dunford.
Please see the file named 'Topic Web' at the bottom of the page. In this document you will find all our learning for this term.
English
Each term, we will be focusing our English lessons on an 'Anchor' text. Including an 'Anchor' text that students enjoy and can get really engrossed in, is an additional way to promote a love for reading as children can 'magpie' their favourite ideas from the text and use them in their own writing.
Our Anchor texts for the Autumn Term are Hansel and Gretel by Anthony Browne and The Dog and Its refelction - Aesop's Fables.
As well as having an 'Anchor' text, each term we will be introducing the children to a new author. This term our author is Jacqueline Wilson. The award winning, Jacqueline Wilson is an English author of children's books. She is best known for creating the character of Tracy Beaker who was first introduced to the world in The Story of Tracy Beaker. You may have watched this on CBBC!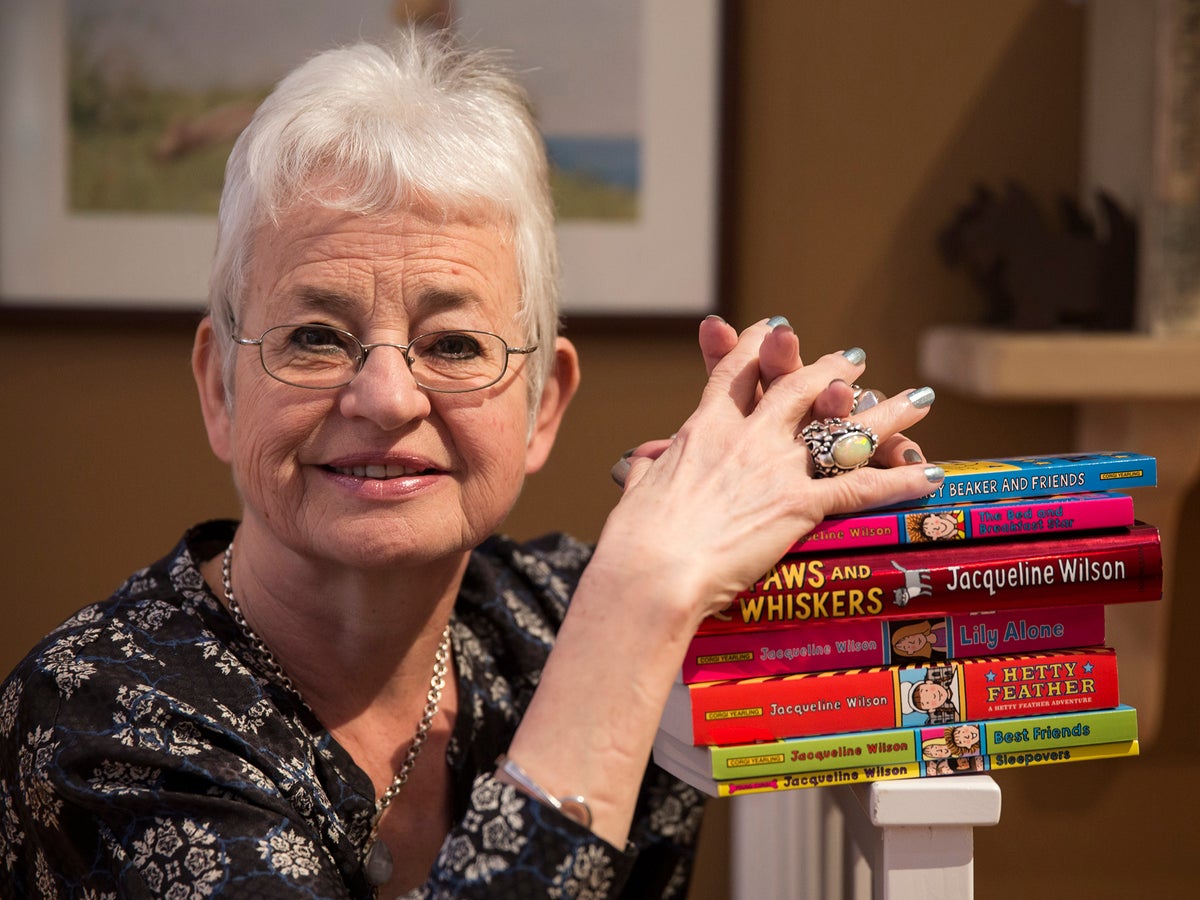 As a child, Wilson was highly imaginative and enjoyed reading and crafting stories.By the age of seven, Jacqueline wrote regularly, filling notebooks with her imaginative writings and at age nine, she composed her first novel which was 18 pages long - wow! At school, Jacqueline showed immense promise in English lessons. Not being able to hold interest in her Maths lessons, Jacqueline would often stare out the window imagining stories. Her teacher nicknamed her Jacky Daydream!
We are so excited to read some of Jacqeline's stories with the class, such as The Story of Tracy Beaker, Cliffhanger and Best friends. You may have some of her books at home, if you do have any of her stories on your bookshelves and bring them into school for us all to share!
Homework
Homework will be handed out on a Friday and should be handed back by the following Thursday.
Children will receive one piece of Maths or one piece of English homework each week. Children will be provided with a green Homework book to complete their weekly work. The same high-quality presentation standards are also required in our homework books.
Following the success of the children submitting their home learning onto Class Dojo, Class Dojo will be used throughout the year to submit different homework tasks. More details will be provided on this nearer the time of the homework being set.
Maths - It is recommended that children play on TT Rockstars weekly to encourage rapid recall of all timetables. Children will have their log in details inside their reading diary.
Spelling - Spelling patterns and keywords will be sent home on a Friday in preparation for an informal test the following week. The words will also be updated to this class page and on Spelling Shed - see the 'Spellings' link. We will be using 'Spelling Shed' as an interactive tool for children to practice their spellings in class, children will also be required to go on this at home as part of their spelling homework.
Reading - Children are expected to read for 15 – 20 minutes each day. We ask that parents monitor their child's reading and acknowledge this by signing their reading records every week. Mrs Shaul, Mr Leach and Mrs Bailey will be checking the children's reading records every week and will send them home with a book at the appropriate reading level. It is important that children are having conversations about the text that they are reading with an adult as this conversation is just as important as the reading of the text. This discussion allows children to work on their comprehension skills, ensuring they are understanding what they are reading.
Your support with all homework and reading is very much appreciated, so thank you in advance!
P.E
This year, children will be getting dressed for their P.E lessons at school. Their kit needs to come into school in their named PE bag which can be hung on their peg.
The indoor PE kit should consist of green shorts, a white t-shirt and a pair of black pumps and the outdoor PE kit should be a plain black tracksuit. There is a 'Whirley' tracksuit top that we are encouraging parents to purchase as it allows the children to look smart. We ask that all of the t-shirts/shorts/bottoms are to be plain and not have
logos or branding on please.
Water bottles and snack
The children are encouraged to bring a bottle to school each day with fresh water and a sensible snack for break time. Please do not send in juice for lesson times.
School Dinners
In Key Stage 2 , school dinners have to be paid for. The dinners cost £2.40 per day an this can be paid using Parent Pay. Please note if not paid for using Parent Pay, dinner money should be brought to school on Monday mornings in an envelope with your child's name on. You can pay for an entire term in advance if you wish. Cheques to be made payable to Whirley Primary School.
Foundation Subjects
Week A
| | | |
| --- | --- | --- |
| Monday | History | History |
| Tuesday | Computing | PSHE |
| Wednesday | PE (Cricket) | French |
| Thursday | Science | Science |
| Friday | PE (Dance) | Art |
Week B
| | | |
| --- | --- | --- |
| Monday | Geography | Geography |
| Tuesday | Computing | Cracking Comprehension |
| Wednesday | PE (Cricket) | RE |
| Thursday | Science | Science |
| Friday | PE (Dance) | Music |
Communication
If you have any questions or queries, please email ab.edwards@whirley.org.uk or m.dunford@whirley.org.uk
Files to Download
Year 3 Mrs Shaul & Mrs Dunford: News items
There are no News items to display
Year 3 Mrs Shaul & Mrs Dunford: Blog items
There are no blog items to display
Year 3 Mrs Shaul & Mrs Dunford: Gallery items
There are no Gallery items to display
Year 3 Mrs Shaul & Mrs Dunford: Calendar items
There are no Calendar items to display