Year 4 Mr Salmon 2022 - 2023
Mr Salmon
Welcome to Year 4!
Spring 2 Term 2023
Have a look at the topic webs below to find out more details about our learning for this term.
English
You will see our English curriculum focuses on a key 'Anchor' text. The children will immerse themselves in this this text in detail, going on to explore a wide range of other text examples with a similar theme. We encourage the children to 'magpie' ideas and vocabulary from these to create their own, unique Author style. Our Anchor text for the Spring term is 'An Atlas of Imaginary Places'. You may wish to purchase these and read them together at home, exploring the stories, characters and vocabulary choices. Children are welcome to bring these into school to follow as I read to them in class.
Author of the Term
We also like to celebrate fantastic authors at Whirley to continue fostering a love of reading. Our Author of the term is Philip Pullman. A well-established author, who is best known for his book 'The Firework Makers Daughter'. Below are a few examples of some of the excellent books he has written.
If you have any of his books at home that you would like to share with the class, please bring them in, or enjoy them as your reading for pleasure book during our DEAR (drop everything and read) time.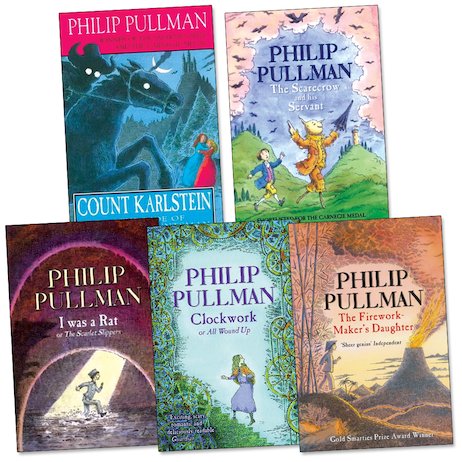 Homework
Homework and reading books will be handed out every Friday and should be returned the following Friday.
At the front of your green homework book, there is a homework timetable for you to follow.
There will be either a maths or English worksheet every week.
There will be a DOJO activity every other week.
Spellings
Each Friday, I will upload spelling for you to practise on to Spelling Shed, you will find your login details at the front of your reading planner. You should be practising your spellings as much as possible - complete at least 10 games each week to help your spelling brain turn colourful. There will be extra DOJO points for the children that smash the 10 games target, and help Year 4 get to the top of the Spelling Shed leader board.
Times Tables
By the end of Year 4, you should know all of your times tables upto 12 x 12. The best way to turn your maths brain colourful is to use TT Rockstars. Your login details are at the front of your reading planner. Have a look at your heat map, this will show you which times tables you are good at, and which ones you need to improve by practising more.
To help you remember your times tables, each Friday, our maths lesson will be used to help you. Mrs Sykes and I will share with you some strategies to help with this learning.
If you find times tables easy, challenge yourself and practise your division facts.
Reading
You will choose your own reading book to take home every Friday but, only if an adult has signed your reading planner. You need to practise your reading as much as possible and be ready to share your thoughts about your book with Mrs Sykes or I.
Ask an adult to ask you questions about what you have read, if they are not sure what to ask you, below is some questions that will turn your reading brain colourful.
P.E
In the Spring term, your P.E lessons will be on a Wednesday and Thursday afternoon.
Please make sure you have both indoor and outdoor P.E kits in school at all times.
Indoor kit - green shorts, white t-shirt, pumps or grip socks or bare feet.
Outdoor kit - Whirley jacket, black joggers/leggins and trainers.
Mr Salmon
Files to Download
Year 4 Mr Salmon: News items
There are no News items to display
Year 4 Mr Salmon: Blog items
There are no blog items to display
Year 4 Mr Salmon: Gallery items
There are no Gallery items to display
Year 4 Mr Salmon: Calendar items